Zero consequences for crimes turn leaders into masters and transform citizens into slaves. How long you gonna stand for being bent over? REEEEEEEEEEEEEEEEEE!

2 min ago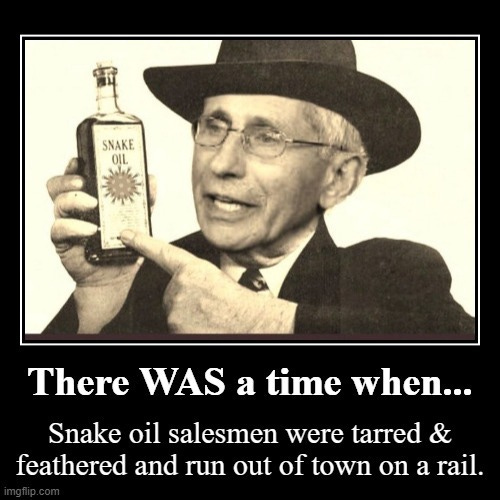 After two years and then some of trusted "leaders" mountain-out-of-mole-hilling the shit out of the common cold we should all get a clue or twenty. Now that the vaccines have shown themselves to be more harmful to your health than if you didn't take them at all you would think there would be some kind of reckoning for the national figures who spit in our faces and called it rain. After years of being forced out of work, forced into isolation, force masked and force vaccinated all for what's turned out to be a fast mutating variant of the common cold, you'd think there'd be major public outcry leading to a swarm of speedy trials and some once-thought untouchables serving some much deserved time in a cell by the sea on the Guantanamo Bay shore.
Thanks for reading Write Wing Conspiracy! Subscribe for free to receive new posts and support my work.✓
PEDO PETER PICKED A PECK OF SICKLED HAMMERS. A PECK OF SICKLED HAMMERS PEDO PETER PICKED. IF PEDO PETER PICKED A PECK OF SICKLED HAMMERS, WHERE'S THE PECK OF SICKLED HAMMERS PEDO PETER PICKED?
A million laughs but the yokes on you, essai. As in you and us and even all those lizard people walking around in skin suits trying to pass themselves off as human but who, once you glimpse their flicking forked tongues and the jaundiced color of their double diamond pupiled eyes, inevitably give themselves away; who are, in fact, the reason we're in such a pickle in the first place! It's the sino sickle stupid, not the borscht belt one. Moscow on the Hudson has got nothing on the Manchurian candidate, the detested Pedo Peter, who the world controllers and the little red book commies (not the voters) picked.
Escher like conjecture of a political landscape foreign to the disconcerted I and slightly butchered tongue twisters aside, the good news is Monkey Pox landed like a lead balloon. Once Joe Sixpack heard that refraining from male on male buggery was the simplest way to stop the spread there was no emptying out of the Costco shelves of pallets of Charmin as Joe Sixpack hurried home to make love to his wife instead.
Ba dump bump!
Thank you! I'll be here all week! Try and deny the steal! I mean try the veal! Next update promises a scurrilous and sloppy attempt to make some fun of one of the high grand lizards, Klaus Schwb's super duper justified disappearing of a cheer leading prime minister essay to the World Economic Forum on how he's going to fundamentally transform Sri Lanka into A Green New Shangri La with unicorns and rainbows and all the best good intention. Up on the WEF Web site since 2015, the paper's been mysteriously scrubbed since that country has devolved into a living hell, which is the natural state and final iteration of the communist Utopia (see Pol Pot, Chairman Mao and Joseph Stalin for some eye-opening corroboration). Luckily the Sri Lankan now-ex and on the run Prime Minister's paper was archived and you can try and squeeze some sensible blood from out this intellectually bankrupt stone here if you dare.